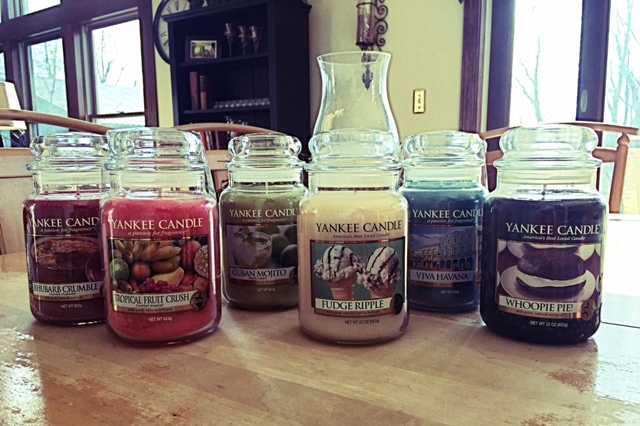 Are you a candle collector or a buyer? Are you a casual candle shopper or an avid one? Do you look at the candle label on the bottom of your jar? You'd be surprised how many people do not, BUT the numbers of people that do flip it over really out number those who do not.
Most of the time people think that yellow labels are not good. Many times people prefer only white labels, however, there is a difference with yellow labels but most often it is only that there is a slight imperfection with the jar. It could be the color of the wax, or even the scent might slightly vary. Most of the time is it not visible to the naked eye, unless you are a candle guru. Yellow labels are often deemed a 'do not buy' jar but I tend to find great deals on yellow labels and some real bargains at Yankee Candle Outlets.
There are American labels that are white labels and these are Deerfield labels. These are sold at Yankee Candle stores but are also shipped to the outlet stores when there is an abundant amount of overflow that the store could not sell before a new seasonal group of scents make their debut.
Deerfield also puts out exclusive jars throughout the year but these cannot be bought at a local YC store, oh no., these can only be bought at the Deerfield or Williamsburg's Yankee Candle Stores and most of the time you must be there in person to buy them. You can often call the stores to place a phone order but you will need a USA address to ship them too. You should also know that shipping can get rather pricey depending on your purchase.
What are tan labels? Tan labels are generally on jars that are European specialty candles shipped to the US for distribution at outlet stores. This is not always the case though. These are the same quality of wax as the white labels but again, people freak out when they don't see a white deerfield label. Isn't it just nice to smell a fabulous aroma in your home or office and enjoy it? Most of the time if you did not look at the bottom of the jar, you wouldn't know what color its label really was. Cool your jets folks, they still smell good. Stop being so picky! At Savin Exporting we pride ourselves in helping you select the perfect scents and candles. We want you to get the most bang for your buck!
https://savinexporting.com/wp-content/uploads/2017/03/image1-19.jpg
426
640
admin
https://savinexporting.com/wp-content/uploads/2017/02/savin-exporting-logo.png
admin
2017-03-29 21:44:22
2019-10-20 14:32:31
Yellow or White Labels from Yankee Candle?