If you are a serious wax addict, you'll want to read this article as it is an attribute to USA wax vendors, one in particular that I want to share with you. Lets talk about Sugar Melts by Stacy and how I got to know about this small business wax vendor.
A little bit about me first. A few months ago, I sat down and wrote a blog based on some of the best wax vendors in America that many of my clients raved about. I made the decision to spread the love of these small wax vendors with others. Through my blog I shared names and links so that others could see what all the fuss was about. Afterwards, I reached out to some of these vendors and asked if we might collaborate, especially to those who did not ship internationally. I personally felt that I could relate to the headaches trying to ship worldwide filling out all the customs documentations and paperwork which is not only mind boggling but time consuming just the same.
I waited in hopes of a response. Stacy and I connected. My grandmother, who was my best friend used to say that that people come into our lives for a reason and that when one door closes another one opens and sure enough I started collaborating with this small business owner.
Today I'm writing this blog to tell you about a woman named Stacy Jean Sullivan and her wax business. Let's talk about Sugar Melts by Stacy. Stacy is the proud owner of her website. She started this business 7 years ago. She is from a small town called Front Royal, Virginia. The name Sugar Melts by Stacy came about because Stacy is a type one diabetic. With that being said we all know that any illness requiring medicines are not cheap. This business truly helps Stacy with her medical supplies as she is on an insulin pump.
Behind the scenes there was someone else who was influential to Stacy and that was her mother. With her mom by her side helping her with bookkeeping and orders etc., she was, as some would say her right hand lady so to speak. They were their own dynamic duo, the dream team. These two were so creative in all aspects of the business that their wax just kept getting better and better with new aromas, and new ideas. With each pour came a new twist on American made wax melts and her list of followers grew. Stacy felt she could do anything with her mother by her side.
In 2020, Stacy's mother became ill and was diagnosed with stage four breast cancer and fought her battle as long as she could with Stacy by her side. In March 2021, Stacy's mother passed away. Stacy struggled with the thought of keeping her business up and running without her mom by her side nevertheless, she knew that her mothers spirit would embrace her enough to guide her through this journey. Stacy vowed to keep her business flourishing because that's what her mother would want her to do. She needs all of us to support her and to keep her business alive. We, along with her mothers spirit always with her will do our part to keep Sugar Melts by Stacy a name to remember.
Stacy has quite a following here in the United States and I'm hoping to help her expand to other countries that need to know about how great her wax products really are. These melts that so many people rave about come in different sizes and shapes and they come in such a variety of scents. The aromas are enough to fill a room and they have people coming back for more and more, month after month.
Stacy uses the best quality wax and oils and puts so much thought into each and every wax melt that she pours and her customer fan base absolutely loves her! If you have not purchased yet from Stacy, I would highly recommend doing so! Drop what you are doing and get on a mailing list or set up an account with her website. Stacy does preorders every 6-8 weeks and in between she often does a RTS or pop up.
I am attaching a link to her website but please note that she takes customized orders only on specified dates so the best thing to do would be follow her on group page on Facebook, Instagram and TikTok for updates on when the next time is to preorder her melts. You definitely will not be disappointment. Please visit Sugar Melts by Stacy
To be able to shop at Sugar Melts by Stacy if you live abroad and have her melts sent to you, you'll need to write us at [email protected] to sign up for a free account with Savin Exporting. We are here to assist you throughout the process. Once you sign up for your free account we'll issue you an American address for you to ship your orders to. We'll do all the customs paperwork and packaging for you to prepare it to ship overseas when you're ready!
From everyone here at Savin Exporting, we are quite honored to be collaborating with you on this business journey Stacy!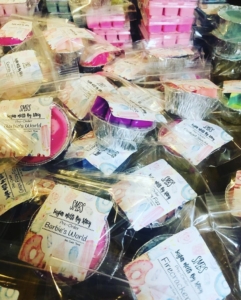 https://savinexporting.com/wp-content/uploads/2022/02/Stacys-logo.jpg
209
575
admin
https://savinexporting.com/wp-content/uploads/2017/02/savin-exporting-logo.png
admin
2022-02-27 05:44:56
2022-03-01 06:16:23
Sugar Melts By Stacy